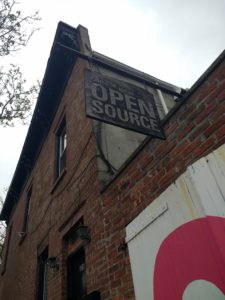 At the most recent Open Source Initiative face-to-face board meeting I was elected president of the board of directors. In the spirit of transparency, I wanted to share a bit about my goals and my vision for the organization over the next five years. These thoughts are my own, not reflecting official organization policy or plans. They do not speak to the intentions nor desires of other members of the board. I am representing my own thoughts, and where I'd like to see the future of the OSI go.
A little context on the OSI
You can read all about the history of "open source" and the OSI, so I will spare you the history lesson for now. I believe the following are the organization's main activities:
There are lots of other things the OSI does, to support the above activities and in addition to them. As I mentioned in my 2019 election campaign, most of what we do vacillates between "niche interesting" to "onerous," with "boring" and "tedious" also on that list. We table at events, give talks, write and approve budgets, answer questions, have meetings, maintain our own pet projects, read mailing lists, keep up with the FLOSS/tech news, tweet, host events, and a number of other things I am inevitably forgetting.
The OSI, along with the affiliate and individual membership, defines the future of open source, through the above activities and then some.
Why I decided to run for president
I've been called an ideologue, an idealist, a true believer, a wonk, and a number of other things — flattering, embarrassing, and offensive — concerning my relationship to free and open source software. I recently said that "user freedom is the hill I will die on, and let the carrion birds feast on my remains." While we are increasingly discussing the ethical considerations of technology we need to also raise awareness of the ways user freedom and software freedom are entwined with the ethical considerations of computing. These philosophies need to be in the foundational design of all modern technologies in order for us to build technology that is ethical.
I have a vision for the way the OSI should fit into the future of technology, I think it's a good vision, and I thought that being president would be a good way to help move that forward. It also gave me a very concrete and candid opportunity to share my hopes for the present and the future with my fellow board directors, to see where they agree and where they dissent, and to collaboratively build a cohesive organizational mission.
So, what is my vision?
I have two main goals for my presidency: 1) strategic growth of the organization while encouraging sustainability and 2) re-examining and revising the license approval process where necessary.
I have a five point list of things I would like to see be true for the OSI over the next five years:
Organizational relevance: The OSI should continue its important mission of stewarding the OSD, the license list, and the integrity of the term open source.
Provide expert guidance on open source: Have others approach us for opinions and advice, and be looked to as an authority on issues and questions.
Coordinate contact within the community: Have a role connecting people with others within the community in order to share expertise and become better open source citizens.
A clear, effective license approval process: Have a clear licensing process, comprised of experts in the field of licensing, with a range of opinions and points of view, in order to create and maintain a healthy list of open source licenses.
Support growing projects: Provide strategic assistance wherever OSI is best placed to do so. For example, providing fiscal sponsorship where we are uniquely qualified to help a project flourish.
An additional disclaimer
As I mentioned above, these are my thoughts and opinions, and do not represent plans for the organization nor the opinions of the rest of the board. They are some things I think would be nice to see. After all, according to the bylaws my actual privileges and responsibilities as president are to "preside over all board meetings," accept resignations, and call "special meetings."