My father and Fanny Farmer taught me how to make pancakes. Fanny Farmer provided a basic recipe, and Peter de Blanc filled in the details and the important things she missed — the texture of the batter, how you know when it's time to flip them, the repeatedly emphasized importance of butter.
Ingredients
1 1/2 cup flour
2 1/2 teaspoons baking powder
3 tablespoons sweetener (optional, see note below)
3/4 teaspoon salt
1 egg (slightly beaten)
2 cups milk
3 tablespoons butter (melted)
Why is the sweetener optional? I think if you sweeten the pancake recipe, it's enough that you don't want to cover it in maple syrup, jam, etc, etc. So, I usually go without sugar or honey or putting the maple right in, unless I'm making these to eat on the go. ALSO! If you don't use sugar, you can make them savory.
Make the batter
Mix all the dry ingredients (flour, baking powder, salt, and sweetener if you're using sugar).
Add most of the wet ingredients (egg, milk, and sweetener if you're using honey or maple syrup).
Mix together.
Melt the butter in your pan, so the pan gets full of butter. Yum.
While stirring your batter, add in the melted butter slowly.
Cooking the pancakes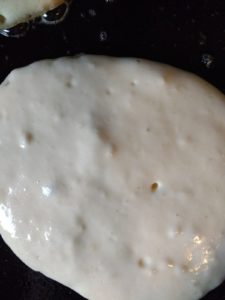 Okay, this is the hardest part for me because it requires lots of patience, which I don't have enough of.
A  few tips:
Shamelessly use lots of butter to keep your pancakes from sticking. It will also help them taste delicious.
After  you put the pancakes in the pan, they need to cook at a medium temperature for a fairly long time. You want them to be full of little holes and mostly solid before you flip them over. (See photos.)
I recommend listening to music and taking dancing breaks.
How to cook pancakes: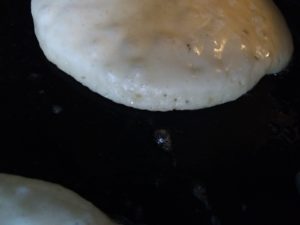 Over a medium heat, use your nice, hot, buttery pan.
Use a quarter cup of batter for each pancake. Based on the size of your pan, you should make three – four pancakes per batch.
Let cook for a while. As mentioned above, they should be mostly cooked on the top as well. There ought to be a ring of crispy pancake around the outside (see pictures), but if there's not it's still okay!
Flip the pancakes!
Let cook a little bit longer, until the bottom has that pretty golden brown color to match the top.
And that's it. Eat your pancakes however you'd like. The day I wrote this recipe I heated some maple syrup with vanilla, bourbon, and cinnamon. Yummmmm.
P.S. I tagged this post "free software" so it would show up in Planet Debian because I was asked to include a baking post there. This isn't quite baking, but it's still pretty good.