Day 3: North Adams to East Hebron (54 miles)
Day three and day two ended in the same way: me, tired after steadily going up hills, finally finding a flat or downhill section of road, only to come upon one last painfully steep climb. These climbs rose in front of me like a tsunami, just waiting to crush me if I stop long enough to wonder what the hell I was thinking.
However, hours after day two ended and miles before the final climb of day three, I was at a lovely bike shop in Williamstown, MA. My bike gloves–wonderful, disgusting things–were too big. That had been okay before, but they started to chafe somewhere in day two and I knew I wouldn't make it all the way without smaller ones.
Nearby North Adams was a friendly sounding bike shop with a hip name. Actually, I hadn't heard they were friendly. I heard they were kind of jerks, but I needed new gloves or my hands would become something unfit for use.
I showed up ready to do the thing where I have to either feel awkward, listen to someone talk at me, or assert loudly and repeatedly that I know what I'm doing. Luckily, these people turned out to be pretty awesome.
After I picked out some gloves, I decided I might as well also deal with a problem I was having called "my pedal got stuck on something and broke in half," which was later followed by "my other pedal hit something and broke in half." I asked Paul (the dude who works there, according to Yelp) for their cheapest pair of clips–pedals with cages that trap your feet, making it so you get "more power from each rotation" but an "increased chance of falling if you start to lose balance."
j/k I love my clips.
He tried to convince me to switch to clipless pedals (in the midst of a muti-day ride?!), and we argued about it for a while. He then offered to put the (clipped) pedals on (I had a pedal wrench), and -then- he started to explain seat fit and how he thought mine could be better.
This is where I interrupted Paul and explained that yes, my seat fit was fine, and I launched into a prepared spiel about how badass I am.
One of my pieces of advice of people who have low self-esteem (i.e. nearly everyone) is to prepare some stock answers about how great you are. You don't have to believe them. Just list some facts that explain how legit you are in a specific context. It's really, really useful because you have an answer that feels more like referencing a Wikipedia article you've read than gloating about yourself.
The dude's attitude changed and he pretty quickly treated me as a peer. My guess is he runs into a lot of people who have fancy bikes but don't know what they're doing, and that he tries to make them (and maybe beginners? idk) understand how to do things better. I like to think that he was trying to be helpful, but just didn't understand my situation.
He became pretty chatty. He gave me advice on the trip, asked what kind of days I was running, what route I was planning. His advice was based around roads he thought were good, locations worth stopping, and a few possible places to sleep, which was the least planned part of my trip.
So, I went back to pedaling, my mind shifting in and out of spaces where it knew how to do anything else. I giggled as I passed into Vermont, cursed silently as I meandered my way up a mountain, and rejoiced as I crossed the border into New York, following close to line between the two states.
Somewhere around there I also realized I really needed to figure out where I was going to be sleeping that night.
There are a bit over 110 miles between North Adams and Middlebury. This is a good two day ride for what I imagine is the lower-to-mid range of your adventure-cyclist–e.g. me. Sparing you the details of my calculation, there was a general range of ten miles in which I thought I ought to sleep–my goal had been to limit sixty mile days, and the idea of a seventy mile day sounded unappealing.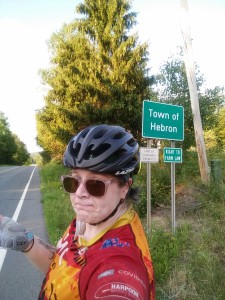 There was a campground south of my range, and another north of it. I started e-mailing bed & breakfasts in the area, asking if I could set up on their lawn for a discounted rate. The first one that responded was also the least out of the way and offered me a bed with a cyclist-discount.
That was how I found myself at Hopkins House Farm Bed & Breakfast.
I'll save all my actual praise for a review, but seriously. These people were great. They fed me TWO BREAKFASTS. They sent me away with oatmeal scones. They had A DOG. Their house was so beautiful it was a little painful, in the way wide floor boards worn smooth from centuries of feet and latch close doors break my heart.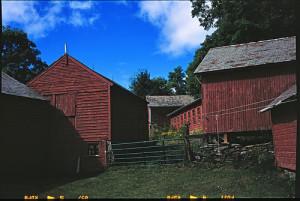 What I won't write in a review is how great the hosts–Charlie and Aggy–were. They sat and talked with me for hours–about their lives, the places they grew up, how they got to a hobby farm and bed & breakfast in New York. We took apart books we read, music we liked, things in nature and science that we think and know and are captured by, what it's like to raise chickens and how that differs from children. They talked about the afterschool programs they help run down at Salem city hall, in Washington County, and submarines and power reactors.
When you bike across Washington County, though lovely, with cute little towns and sprawling fields, you also pass for sale signs up on ramshackle buildings with promises of acreage. There are trailers and double-wides next to collapsed houses. Every farm stand has cucumbers, tomatoes, zucchini, summer squash, and piles on piles of corn. Corn, I learned, is best when really, really fresh–especially it's going to be sitting out in the heat. Corn for farmstands is gathered several times a day, and I stopped by one such place where the guy working there (who filled a bag for me and wouldn't let me say no) said he went out and picked more five times a day.
Day three, most unfortunately, had kicked off the period of the trip where I stopped sleeping 10 hours a night. Somewhere between not eating enough calories and spending all day creeping across New England, my body switched into some prehistoric evolutionary space. From then on, I slept between 4-6 hours a night. This was not my best decision, and one I greatly regretted after I realized how comfortable the bed at Hopkins House Farm was.
total miles: 54
elevation gained (in ft): 1,745
hours slept the night before: 10
eggs eaten: 3
great people met: 4