I kind of can't get over that I powered myself from Boston to Montreal. Saying it was just me is self-indulgent and, moreso, inaccurate. Even before I left, people I know rallied to help me make plans I'd procrastinated on for too long. IR gave me a route, BK helped me find the first place to stay, and half of the residents of a local warehome helped me pull together all sorts of provisions–from an extra warm sleeping bag to snacks.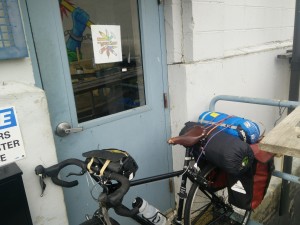 On Day 0, I hitched a ride to Worcester, where the super cool people at the Worcshop let me crash for the night. This really helped–I felt a little bad about "cheating," but at the same time I didn't. I highly encourage people taking bike trips to take public transit in and out of cities, because that's usually the worst part of the trip. I would go as far to say that I have nothing bad to say about the Worcshop, but I ended up (unsurprisingly) staying up too late. So, rather than leaving at 8 or 9, I was out the door closer to 10:30. (This is a theme.)
Day 1: Worcester to Northampton (60.9 miles)
Day 1 took me across eastern MA to land firmly in the center of the state. There were a few "tricks" to my trip, that I think are important for anyone considering such a thing. A few useful points when considering these:
I am extremely pale
I get heat-related migraines and dehydrate easily
I've been on a ketosis diet and eating high-calorie, low volume foods.
This relevantly translates to:
I need to use a lot of sunblock
I need to drink a lot of water
I need to eat small amounts semi-regularly to have some semblance of enough calories.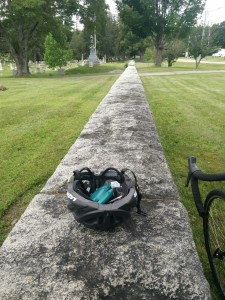 I pretty carefully managed my time. I set the alarm on my phone for every 75 minutes. I'd stop, take a ten minute break, reapply sunblock, have a drink and a (small) snack, check the map, and then keep pedaling. I ended up stopping in a lot of cemeteries, because they occur fairly regularly, have low, wide walls, and aren't immediately at the side of the road.
So I pedaled. And I pedaled some more. I stopped and applied sunblock, and then more sunblock, and then more. Over the course of that day, I applied a tube of sunblock.
A WHOLE TUBE.
I also drink a lot of tang. If this trip was sponsored, it should be sponsored by tang (or whoever makes it). I drink a lot of tang. Seriously. It's like gatorade but orange flavored (the color, not the fruit).
When you bike long distances, you should estimate 10 miles/hour. Or at least I do. Between breaks, fatigue, and occasionally revisiting your route during times with a lot of specific directions, it seems to end up that way.
I rolled into Northampton (climbing another hill!) in the afternoon. Total success.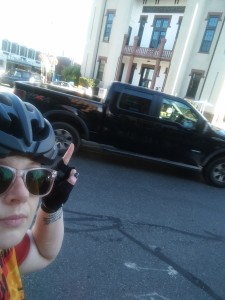 All in all, very good day.
total miles: 61
elevation gained: 1,873 ft
long breaks taken: 2
sunblock tubes used: 1
hours of sleep the previous night: 6
pre-existing friends seen: 4
friends made: 3