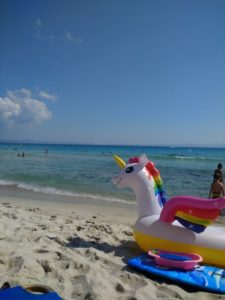 August was really marked by traveling too much. I took the end of the month off from non-work activities in order to focus on GUADEC and GUADEC-follow up.
Personal
The Debian Community Team (CT) had a meeting where we discussed some of our activities, including potential new team members!
CT team members went on VAC, so we took a bit of a break in the second half of the month.
The OSI standing committee and board had meetings.
I handled some paperwork in my capacity as president.
I had regular meetings with the OSI general manager.
I gave a keynote at FrOSCon on "Open source citizenship for everyone!" TL;DR: We have rights and responsibilities as people participating in free software and the open source ecosystem — "we" here includes corporate actors.
I bought a really sweet pair of GNOME socks. Do recommend.
Professional
The LAS sponsorship team met and handled the creation of some important paperwork, and discussed fundraising strategy for the event.
I attended the GNOME Advisory Board meeting, where I got to meet and speak with the Foundation Board and the Advisory Board about activities over the past year, plans for the future, and the needs of the communities of AdBoard members. It was really educational and a lot of fun.
I attended my first GUADEC! it was amazing. I wrote a trip report over on the GNOME Engagement Blog.
At GUADEC, I spent some time helping out with basic operations, including keeping time in sessions.
We, the staff and board, did a Q&A at the Annual General Meeting.
I drank a lot of coffee. Like, a lot.