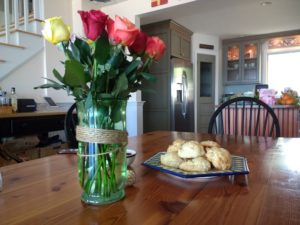 I love biscuits. Here is my recipe for biscuits. It's based on the All Purpose Biscuit recipe from the New York Times.
Biscuits are good sweet or savory. This particular biscuits are soft and have a bit of a crumble to them.
They're good for any meal — breakfast, lunch, dinner, snacks, dessert…
Ingredients
8 tablespoons (one stick) butter (or other solid fat)
2 cups flour (alt: 1 1/2 c flour, 1/2 c corn flour)
2 tablespoons baking powder
1 tsp salt
2 tablespoons sweetener (I use honey)
1 cup milk-like-substance (optional 2 tablespoons apple cider vinegar, if you want to curdle it)
Process
Preheat over to 425 F and butter a baking sheet or cast iron pan.
Optional: Mix the apple cider vinegar and the milk, so it curdles.
Cut butter into small pieces, or use a cheese grater.
Add butter, flour, baking powder, and salt
Use your hands or a pastry knife or whatever you want to to mix the butter and the dry ingredients.
Add the sweetener and milk.
Mix some more, but don't over mix. I'm not sure how to define what over mix is.
Scoop onto your baking sheet (I use a 1/3 or 1/2 cup to measure out the dough)
Bake for 10-15 minutes, or until the tops are just getting golden and the bottom is also golden.
Eat, enjoy, yum.
I recommend, once you're comfortable, experimenting with adding other things: herbs, spices, cheese, jalapeños, jalapeños and cheese, or whatever else sounds good to you.