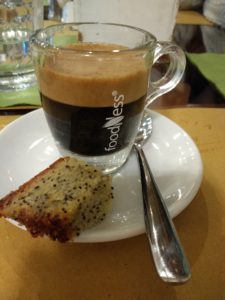 Welcome to what is the first and may or may not be the last monthly summary of my free software activities.
November was a good month for me, heavily laden with travel. Conferences and meetings took me to Seattle, WA (USA) and Milano and Bolzano in Italy. I think of my activities as generally focusing on "my" projects — that is to say, representing my own thoughts and ideas, rather than those of my employer or associated projects.
In addition to using my free time to work on free and open source software and related issues, my day job is at the Free Software Foundation. I included highlights from my past month at the FSF. This feels a little bit like cheating.
November Activities (personal)
I keynoted the Seattle GNU/Linux festival (SeaGL), delivering a talk entitled "Insecure connections: Love and mental health in our digital lives." Slides are available on GitLab.
Attended an Open Source Initiative board meeting in Milan, Italy.
Spoke at SFScon in Bolzano, Italy, giving a talk entitled "User freedom: A love Story." Slides forthcoming. For this talk, I created a few original slides, but largely repurposed images from "Insecure connections."
I made my first quantative Debian contribution, in which I added the Open Source Initiative to the list of organizations to which Debian is a member.
Submitted sessions to the Community and the Legal and Policy devrooms at FOSDEM. #speakerlife
Reviewed session proposals for CopyLeft Conf, for which I am on the paper's committee.
I helped organize a $15,000 match donation for the Software Freedom Conservancy.
Some highlights from my day job